Hiya! Welcome to another Core'dinations and Tombow blog hop! You ought to have come here from Tracy's blog. If not, be sure to head over to the Tombow blog and work your way here.
Today I have a gift card card to share with you that I created using Core'dinations cardstock and some amazing Tombow adhesive! The background/card "base" that I created the pocket out of is from the Tim Holtz Shattered Collection while the gold and blue ontop are from the Gemstones collection. The effect of the gold shimmer on the teal with the kraft "shatters" just makes the nooks and crannies stand out that much more.
See the dimension or depth of the cover of the card? The gold Gemstone cardstock is popped a bit from the base. I have raved before about Tombow's Power Tabs, and this is no different. My first opinion sticks - literally and metaphorically! They are designed to be strong bonding adhesive but I love them for not only the strength but also that perfect amount of pop.
I wanted the gift card flap to close securely onto the base of the card and used the Fastener Tabs by Tombow to accomplish this task. This is one tight close, let me tell you! No worries about my gift card sliding out from there!
You can see a closer look at the "hook" of the hook and loop on the lace of the cardstock. I could probably have cut that down smaller or easily trimmed it down to match the arc in the lace and thus less conspicuous. Only that didn't occur to me until the writing of this blog post. It would have been easy to do at the time had I thought of it.
We have prizes!! What great hop doesn't have some fantastic prizes to make all that hopping worth your while?!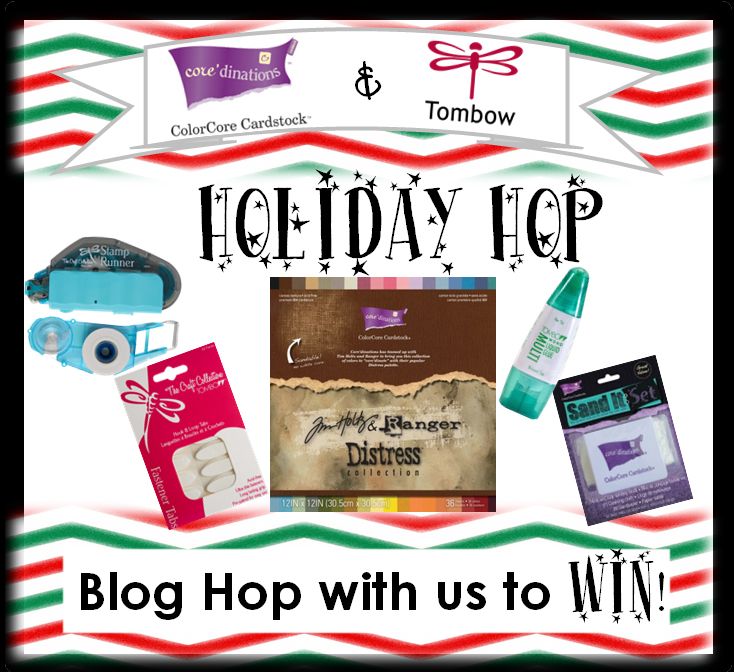 Tombow's prizes:
· Fastener Tabs
· Mono Multi Liquid Glue
· Stamp Runner Permanent Adhesive
· Refill, Stamp Runner, Permanent

And Core'dinations is giving away a pack of Tim Holtz Distress Collection and a Sand it Set; subject to availability.
To be eligible to win, please comment on each of the designers projects  and don't forget to "like" the Core'dinations Cardstock Facebook Page and "like" the Tombow Facebook Page.
If you don't use Facebook, still comment on the projects and Tombow will select someone to win a prize just for playing!
Here's today's line up;
Tombow: http://blog.tombowusa.com/
Melissa: http://www.inkclinations.blogspot.com/
Tracy Gruber http://www.owlbecraftin.blogspot.com
Suzanna Lee http://www.lifestrivialities.typepad.com/
Jill Lebbin http://everydayisanoccasion.com/
Core'dinations: http://www.coredinations.com/index.php/cat...scrapbook-blog/
From here you're heading to Jill's blog next.You can get to Jill from HERE.
Thanks for stopping by!